What are the allowable uses and industries for B1 Industrial space?
According to URA's definitions, industrial developments comprise factories, warehouses, telecommunication and utility buildings. Depending on the nature of their activities, clean and light industries are allowed in a B1 zone.
Allowable Predominant Uses (minimum 60% predominant use)
Manufacturing (Light Industries)
Food Industry (Packing)
Core Media1
Printing / Publishing
E-Business2

ICT, IT, Data centres, Call centres etc.

Industrial Training
For further information, please refer to the URA website.
Core Media1
Core media activities, which are production services that require technical facilities such as studios and high-tech production software/hardware, are allowed as part of the 60% predominant use quantum in Business 1, Business 2 and Business Park developments.
E-Business2
The e-business activities shown in the table below are regarded as industrial uses allowed as part of the 60% predominant use quantum. Data Farms/Data Centres would require prior planning permission for an assessment to be made in consultation with the relevant technical agencies on the suitability of the premises for such uses.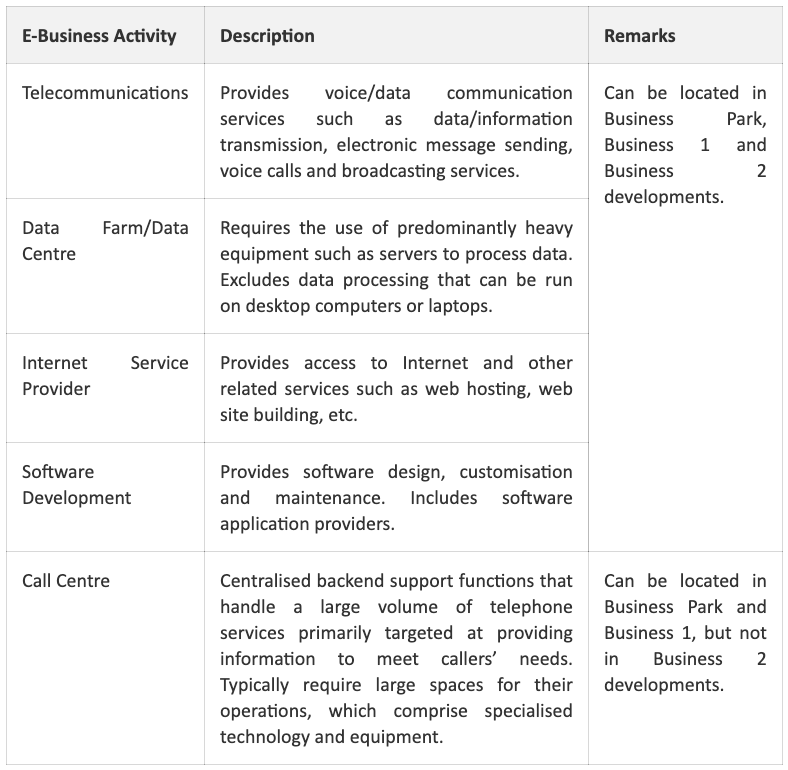 Picture source: URA
Looking for a B1 office space? Check out our industrial spaces for rent or reach out to us for a customised office search report!