Top 5 Picks for Office Cleaning Providers in Singapore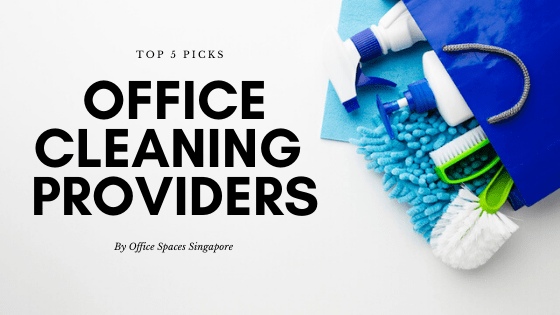 How to choose an office cleaner?
Keeping the office clean is no easy task. Most companies either hire a cleaner full time, or outsource it to cleaning company. In our experience, the latter is definitely the easier option. Looking to outsource your office cleaning? There are over 1300 registered cleaning businesses under NEA currently (check for registration under this e-service) and possibly more companies unregistered. So how do you choose a reliable office cleaning provider?
Here are some useful tips on how to choose an office cleaning company:
Choose an established cleaning  service company
An established cleaning service company is one that has been in the cleaning business for a long time. You do not have time to micro-manage on how your office should be cleaned, so getting an experienced cleaning company ensures that the cleaner you are getting is well trained in cleaning. Most established cleaning companies are NEA registered and have won some Clean Mark awards.
 Choose a company that does office & commercial cleaning
As an office consultant, we cannot emphasise enough that home and office cleaning are quite different. Just like residential and commercial renovations, leasing etc. So be sure to outsource your cleaning to a company that has a track record on cleaning commercial offices.
Check if they are insured
It is good to check if the cleaner and the company is backed by insurance. In the event that property is lost or damaged during the cleaning, it is always good to have insurance.
Top 5 Recommendations
We get asked for recommendations for office cleaning services from our clients very often. So we decided to search for the most reliable cleaning services available in Singapore. These companies all have satisfied the following criteria:
NEA registered
Professional and have long term clients
Provide a dedicated cleaner every week
Cleaner is an employee of the cleaning company
Regular weekly schedule
Option to provide cleaning supplies
A1 has great online reviews and extensive experience in cleaning both homes and offices. Their cleaning team consists of over 100 experience employees.
Professional office cleaning company with a Biz Safe 3 license and NEA Clean Mark Silver accreditation. Abba has many satisfied customers and great google reviews.
Formerly OfficeCleanz, Luce Office is the flagship cleaning service of Luce Maintenance Group and has been a preferred maintenance provider of many established companies in Singapore. Apart from office cleaning, they now offer tea lady and disinfection services. They are continuously looking for new clients to expand their customer base and improve their services.
A well established cleaning company that has experience in the commercial, medical, F&B and hospitality sectors. Noteably, the company has won awards such as Singapore Excellence Awards and Promising SME 500.
Avalon has 14 years of cleaning experience. First starting out as a carpet cleaning specialist, the company has evolved to provide a full suite of cleaning services.
Before calling a cleaning company…..
Ideally, try to schedule your office cleaning at a time when there are no or lesser employees in the office to ensure that your staff is not disturbed by the cleaning procedure.
It is also equally important to communicate with your staff to do certain things before a scheduled cleaning such as – keeping valuables and documents under lock and key, disposing of leftover food as soon as they are done with it etc.
Have a list of tasks to be performed on daily and weekly basis. This enables you to keep track if all your requirements are getting attended to. Lastly, if possible, get your premises surveyed by the service provider before asking a formal quotation.