The Ultimate Guide to Every Type of Office in Singapore
There are quite a few types of offices for rent in Singapore for businesses to choose from. This article shares with you what they are and if they are suited to your business needs. If your company is a newly established business entity or a multi-national corporation expanding into Singapore, read this article before committing to an office in Singapore.
Questions to consider before deciding on an office space in Singapore
Before beginning your office space search, you should ask yourself the following questions to narrow down your office space options in Singapore and decide what is best for your business.
Do I need a physical office space?
How much space do I need? What is my headcount projection for the next year?
Can I commit to a long term (2-3 years) lease at this stage of my business?
Do I need storage, production, manufacturing space?
Does my business deal with R&D, science and/or technology?
1) Virtual Office
Most of the serviced offices in Singapore will offer virtual office packages as an option. Having a virtual office in Singapore will give you a dedicated business address, phone number, mail handling, call forwarding and voicemail service. Add-ons include access to meeting rooms and secretarial services.
For companies that adopt a work-from-home approach, subscribing to a virtual office package might be the best option with the lowest cost. Without having to pay for a physical office, you can get a business address in a prime location in the CBD, giving your company better credibility both online and for meeting clients.
A virtual office is also great for businesses in the process of setting up. It enables business owners to incorporate a company in Singapore with a business address, print business cards and start their prospecting activities without actually renting an office space!
2) Serviced Office / Business Centre
A serviced office or business centre is a fully fitted and furnished office space managed and maintained by a dedicated team as part of the monthly cost. Rent a private office, and enjoy shared services such as receptionists, admin or concierge team onsite as well as IT professionals.
Many serviced offices in Singapore have meeting rooms for rent by the hour, as well as shared pantry and breakout areas. The leases are extremely flexible, a company can start with an office room for two persons and upgrade to a larger room as the team grows; businesses get to choose their lease terms according to their business needs, starting from as short as 2 weeks to 2 years.
3) Co-Working Space
A co-working space is similar to the serviced office concept, with fully furnished workspaces, except that it contains more hotdesking options and less private office rooms. A co-working space also provides more breakout areas and community spaces to hang out.
A typical co-working space offers a range of options such as hotdesking, dedicated desks, as well as private rooms. You can even opt to purchase day-passes to utilise the workspace on selected days of the month. Such an option offers companies flexibility, agility and also a great opportunity to network.
This type of space is ideal for companies who are looking to just move into an office without any hassle. However, the openness and vibrancy of a co-working space might not suit companies who prefer more privacy and a quieter environment to work in.
4) Enterprise Suites
This type of space is ideal for companies who are looking to just move in an office with minimal hassle. Enterprise suites are offices cut out from a larger floor plate, each with their own entrance. The typical size of such office spaces ranges from 500 square feet to 1,000 square feet, and usually have the basic air-conditioning, lights, electrical sockets and carpeting. Some offices will come furnished with furniture.
If you think residential terms, this is much like a serviced apartment while serviced office/ co-working is akin to a hotel.
Enterprise suites may be run by a serviced office provider or building landlord. More often than not, premium grade office buildings will not cut out offices that are smaller than 1,000sqft. Hence, such spaces usually are run by a master tenant who is in the shared office space industry. If so, tenants will also get to enjoy the perks of shared spaces such as pantry and meeting room areas.
This option is suited to businesses who have more than 5 employees, have out grown serviced offices and co-working spaces, or those who prefer not to share office space with other companies.
5) Shophouse Office
Shophouses are typically 2 – 4 storey buildings that were conserved from the pre-war times. Shophouses are a quintessential part of Singapore's local architecture and history. The shophouse office is perfect for companies looking for a more creative and unconventional work environment for their business.
Majority of the shophouse office spaces are found in the central area of Singapore where most business activities take place. The most sought after shophouse offices are located adjacent to the Singapore CBD such as Boat Quay, Amoy Street, Telok Ayer, Tanjong Pagar and Chinatown. Other locations with such shophouse office space are North Bridge Road, Bugis, Beach Road, River Valley, Clark Quay, and Cantonment Road.
The common lease term for a shophouse office is similar to a regular office space – usually 3 years (sometimes 2 years). Size wise, each floor has a size area of about 1,200sqft to 1,500sqft. This is an ideal size for the small to mid-sized businesses.
The ground floor of most commercial shophouses are for F&B or retail use, with a minority used as an office with street frontage. Offices are usually located on the upper floors of the shophouse. Although most shophouses are walk-up properties,  in the recent years, more and more shophouse owners have been refurbishing their shophouses with lifts.
With rents typically between 30% and 50% cheaper than prime office spaces in the same location, shophouse offices have become a popular option for businesses. Look up shophouses for rent.
6) B1 Light Industrial Building Office Space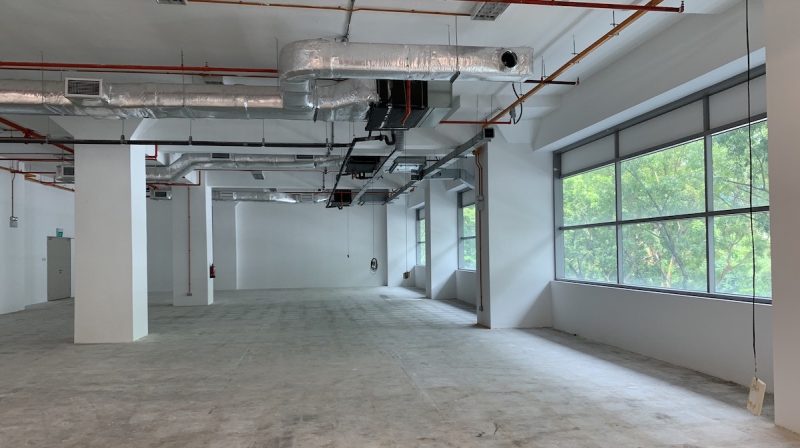 By far the office category that gives you the most bang for your buck. B1 industrial office buildings could save you around half the price of a similar-grade commercial office space in Singapore.
The most premium buildings have corporate images comparable to Grade A buildings in the CBD, complete with a nice office lobby, security gantries, automated lifts and floor to ceiling windows. These buildings usually cost around $4.00 – $6.00 per square foot (psf).
The less premium industrial buildings, and those located not so near the MRT, would cost around $2.00 – $4.00 psf. This price is extremely affordable as compared to even the lowest psf rental you would have to pay for an office in the CBD.
However, the price discount does come with its own set of restrictions. Businesses who want to operate from B1 office space have to abide by URA's(Urban Redevelopment Authority of Singapore) rules: –
Be in one of the approved business categories
Follow the 60-40 rule of space allocation
► READ: What are the allowable uses and industries for B1 Industrial Space?
To account for the great price disparity, it should be noted that industrial buildings in Singapore are commonly located outside the central areas. Furthermore, as the name suggests, there will be a more industrial feel to the office. Expect bare concrete flooring, and exposed ceilings for most B1 office spaces.
If you are considering locating your headquarters or regional office in an industrial building in Singapore, before you start searching for industrial space for rent, get professional advice on whether your company's activities qualify. Apart from industrial office space, you can also considering locating your office in a Business Park which we will be discussing below.
7) B2 Industrial Building / Warehouse Space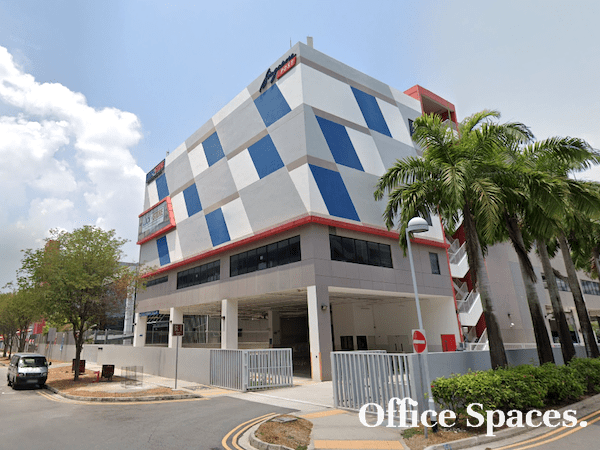 Companies that would like to house their office together with warehouse, production or manufacturing works can choose to be based at industrial buildings on land zoned B2.
B2 and warehouse spaces do have higher ceiling height in general; and rental prices are even cheaper for this category of business space.  However, do expect a bare bones condition ie. no lights, no air conditioning, and some noise (drilling, sawing, soldering etc.) from your neighbours!
Under Singapore's regulations, B2 industrial buildings are specifically for businesses in manufacturing, repair & servicing, production, assembly, storage of chemicals, oils, knitting mills, core media and e-businesses.
Refer to URA for more details on the allowable uses for B2 industrial space.
8) Business Park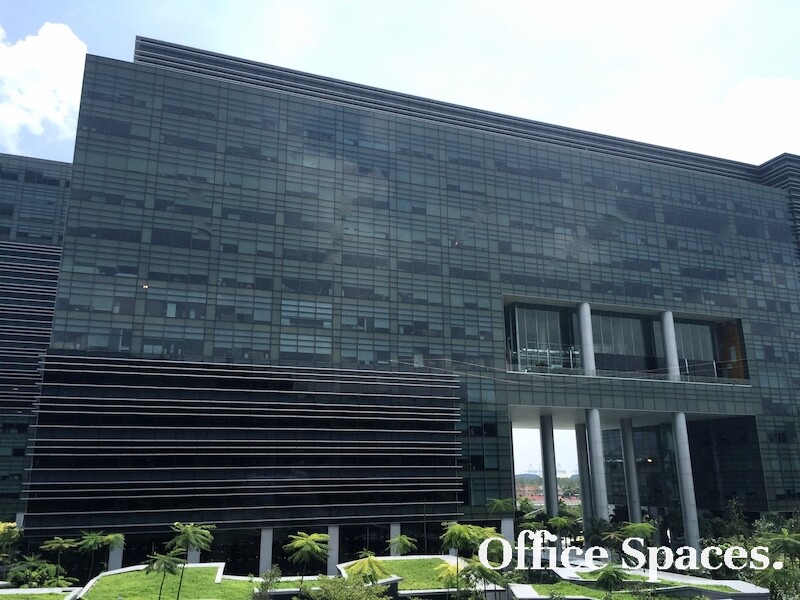 A business park is not only a cluster of hi-tech industrial buildings, it also has a full range of amenities within its compounds. In Singapore, offices in a business park are designed for businesses engaged in high-technology, research and development (R&D), high value-added and knowledge intensive activities.
The lower rent of an office space in Business Park compared to a conventional office building has motivated many companies to move their qualified business activities such as R&D department and support offices to these Business Parks or to relocate their offices entirely.
The Business Parks in Singapore are located mainly in the East, West and Central (CBD-fringe) region. With Changi Business Park in the East of Singapore, Mapletree Business City and One North Business Park in the central areas and the Singapore Science Park or International Business Park in the West.
9) Conventional Office Space
Last but not least, we come to the most common and straightforward office type in Singapore, the conventional office space. Any building located in a commercial zone on the Singapore map is a commercial building and has the potential to be for office usage. Most of the office space in land-scarce Singapore come in the form of high-rise skyscrapers aka office buildings.
The standard expectations of an office building would be to have a presentable office lobby area, often with a security guard or reception desk, and most importantly, lifts on every floor. Nowadays, most office buildings are equipped with security gantries for the lift lobbies, requiring visitors to register at the reception desk before being given a visitor's pass.
In Singapore, a corporate lease term is typically 3 years long, with an option to renew for another 3 years.
What is a Grade A office building?
While there is no formal grade classification of office buildings in Singapore, we often hear the terms "Grade A office building" and "premium office space" and so on. This classification usually corresponds to the corporate image a company gets from being located in the building.
Where are office buildings located in Singapore?
The highest concentration of office buildings can be found in Singapore's CBD (Central Business District) as well as commercial hubs across Singapore, as part of the government's decentralisation plans for the workforce to ease traffic congestion.
The CBD is the city's historical business hub, and includes Raffles Place, Tanjong Pagar, Shenton Way, Cityhall, Bugis and the recently developed Downtown area.
Click here to find office space for rent in the CBD.
Other major commercial hubs in the city include CBD-fringe areas such as Alexandra Harbourfront, Paya Lebar, Tampines and Jurong East.