Singapore's Grade-A CBD office rents to moderate in 2020; real estate investment volume falls 36.1% q-o-q
The Covid-19 pandemic is expected to cause Grade A CBD rents in Singapore to moderate by about 10% in 2020, with a further decline in 2021, according to a report by real estate consultancy Cushman & Wakefield on the local office segment for 1Q2020.
Already, Grade A CBD rents have fallen by 0.5% to $10.61 psf/month during the quarter while rents in Marina Bay and Raffles Place have started to decline, each falling by about 1% q-o-q. However, other sub-markets have remained stable for now.
Rates for renewals are currently more resilient, while rents for new leases experienced a larger decrease, as many companies are cash-strapped and do not have the budget for fit-out costs, says Cushman & Wakefield.
However, the disparity between rents for renewals and new leases is expected to narrow, especially if landlords start offering incentives for new leases in the form of fit-out subsidies.
During the quarter, Equinix relocated to a 70,000 sq ft space at 79 Robinson Road along Shenton Way. Delivery Hero relocated to a 50,000 sq ft space at Afro-Asia Building, while Spotify moved to 51 Central at 51 Bras Basah, in Bugis.
Demand for office space — comprising renewals, relocations and fresh leases — has been affected by a number of factors. One is the rising prevalence of remote working and staggered work hours which has reduced the immediate demand for new space, says Christine Li, head of research, Singapore and Southeast Asia at Cushman & Wakefield.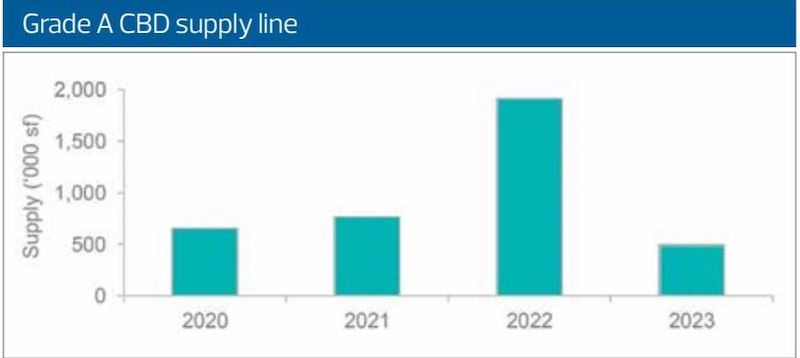 Secondly, the recent circuit breaker measures announced on April 3 which sees all non-essential services closed between April 7 and May 4, is likely to delay occupier's decision-making in taking new leases up until the end of the second quarter, says the report.
Uncertainty in other countries could also impact leasing demand in Singapore. This could happen if US and Europe-headquartered MNCs take a step back on expansion due to lockdowns in their respective countries, which in turn will slow down business activities significantly, states Cushman & Wakefield.
Meanwhile, demand for co-working spaces will remain flat in the near term, says Li. However, later in the year, co-working spaces may fill a gap for tenants who resume space-planning in the immediate months after the Covid-19 situation eases, she adds.
With Covid-19 related restrictions easing in China, Cushman & Wakefield has also begun to see renewed inquiry by Chinese firms, an indicator business activity levels may resume over the remaining year.
Real estate investment volume falls
Preliminary real estate investment volume in Singapore fell 36.1% to $2.47 billion in 1Q2020 from 1Q2019, making this the second straight quarter of decline, says property consultancy CBRE.
The decline in 1Q2020 was due to the absence of significant transactions compared to 4Q2019, and the lack of sizeable assets for sale.
Nonetheless, investment sales were propped up by movement in the luxury residential market as well as government land sales. There were also a fair number of related-party transactions, as well as deals below $100 million. Looking ahead, CBRE expects that these four factors are likely to propel real estate investment sales numbers.
Foreign capital inflows have also slowed, dropping by 65.1% q-o-q to $213.99 million due to restrictions on global travel. Investors are likely to sit by the sidelines as they wait for value to emerge, states CBRE.
"For 2020, depending on the scale and length of the pandemic, Singapore real estate investment volume should come in around 20% to 30% lower than the $18.23 billion recorded in 2019," says Desmond Sim, head of research, Southeast Asia at CBRE.
"With retail and hospitality assets in the eye of the storm, investors will be looking for distressed sale opportunities," adds Michael Tay, head of capital market, Singapore at CBRE.
EdgeProp Singapore,  09 Apr 2020