Singapore office rents poised to improve in 2022
AFTER bottoming out in 2021, office rents in the central region are expected to improve further this year on the back of an improving economy and tight supply.
Rentals of office space ticked up 0.9 per cent in the fourth quarter of 2021 over the previous 3 months, reversing from a 3.5 per cent decline in the previous quarter. Figures released by the Urban Redevelopment Authority (URA) on Friday (Jan 28) showed that the rental index rose 1.9 per cent for the whole of 2021, after slumping 8.5 per cent in 2020.
CBRE's head of research (South-east Asia), Tricia Song, said: "The gradual reopening of the economy, positive sentiment, coupled by a tight supply situation, led to an overall increase in office rents islandwide."
Analysts also noted that office demand is buttressed by technology and financial firms, and by tenants displaced from office assets undergoing redevelopment. This is especially so for good quality offices.
Cushman & Wakefield's head of research, Wong Xian Yang, highlighted that Category 1 office median rentals rose 0.6 per cent quarter-on-quarter in Q4 2021 in the third consecutive quarterly increase. He added: "Notably, Category 2 office spaces grew 0.4 per cent quarter-on-quarter in Q4 as well, suggesting a broad-based recovery in the office market."
URA's fourth-quarter data also showed that prices of office space in the central region decreased 1.8 per cent, narrowing from a decrease of 2.4 per cent in the previous quarter. For 2021, prices of office space shrank 5.8 per cent, versus a sharper 10.7 per cent in 2020.
Islandwide, as at the end of Q4 2021, there was a total supply of about 786,000 sq m gross floor area of office space in the pipeline, up from the 755,000 sq m in the previous quarter.
The amount of occupied office space decreased by 10,000 sq m of net lettable area (NLA) in Q4 2021, compared with the decrease of 5,000 sq m in the previous quarter. Analysts said that the contraction in islandwide net absorption – while moderating from 2020 – came as hybrid working prompted occupiers to continue reducing their office footprint at a pace that outstripped expansion and new take-ups.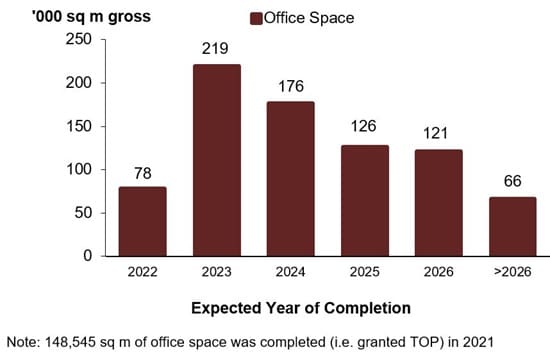 Image source : URA
The stock of office space decreased by 23,000 sq m NLA in Q4 2021, versus an increase of 26,000 sq m in the previous quarter, stemming largely from public stock removed in the fringe area. As a result, the islandwide vacancy rate of office space dipped to 12.8 per cent as at end-Q4 2021, from 12.9 per cent as at the end of the previous quarter.
As the economy recovers and more companies set up shop or expand here, JLL projects a 3-5 per cent growth in the rental index for the Central Region this year. For Grade A assets in particular, JLL's Grade A CBD office basket rose for the third consecutive quarter for an average monthly gross effective rent of S$10.23 per square foot (psf) in 4Q21, up 1.8 per cent quarter-on-quarter. JLL's Tay said: "Should market normalization stays the course, 2022 CBD Grade A rent growth could more than double the 4.2 per cent achieved for 2021."
According to CBRE, Grade B Core CBD rents were up 0.6 per cent to S$7.80 psf per month in Q4 2021 – marking the first increase since end-2019. The flight to quality will continue to fuel demand in 2022 as sustainability takes centrestage, according to Song, prompting firms to upgrade to environmentally friendly buildings. "Amid a war for talent and with more certainty of economic and growth, occupiers are likely to be more selective and willing to pay for the right space," Song added.
See full article here.