Raffles Place to get green spaces, cycling paths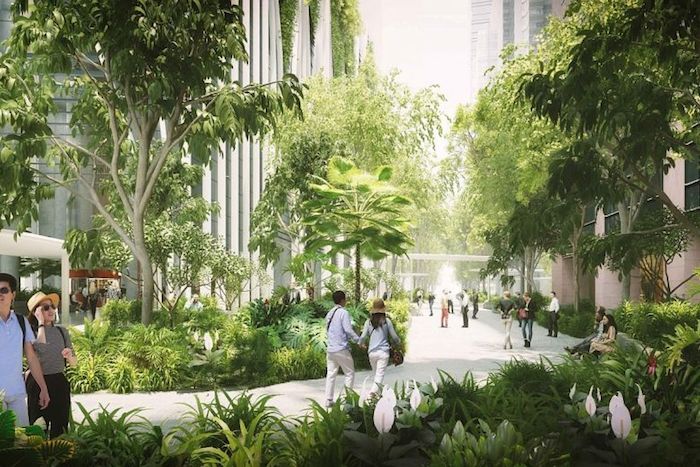 SINGAPORE: The area around Raffles Place will soon become a green, more "people-friendly" zone, with a new park and cycling paths in the pipeline, said National Development Minister Lawrence Wong on Friday (Feb 9) at the groundbreaking ceremony for the redevelopment of Golden Shoe Car Park.
"If the original Golden Shoe was remembered as a place for cars, I hope the new Golden Shoe will become known as a place for people," said Mr Wong. "We must enhance our streetscape and transform this area into a vibrant people-friendly zone."
As part of the plans, a stretch of Market Street between the former Golden Shoe Car Park and Republic Plaza will be permanently closed to traffic and converted into a new public park. The space, which is about 1,000 sqm, will include a new sheltered linkway connecting Golden Shoe Car Park to the existing sheltered pedestrian network from Raffles Place MRT station.
Footpaths along Market Street, Malacca Street and Phillip Street will be widened for both pedestrians and cyclists, with greenery on the roadside. A series of sheltered linkways along Malacca Street will also provide sheltered connectivity between Raffles Place station and nearby developments.
Additionally, cycling paths will be built along these streets, connecting to upcoming cycling paths forming part of the Central Area cycling network.
Plans for the upcoming Golden Shoe Car Park were also announced at the event. These included a public atrium on the ground floor of the integrated development, which can be used for community events.
The Market Street Food Centre, which is currently operating from an interim site beside Telok Ayer station, will be located on the second and third floors of the development.
The new development will also feature a four-storey Green Oasis, comprising a "jungle gym, treetop cocoons, sky hammocks" as well as "cascading landscapes at the rooftop which will house a restaurant and Singapore's highest urban farm", CapitaLand said in a press release.
Facial recognition technology, sensors, Internet of Things and artificial intelligence technology will also be deployed throughout the development to "optimise user experiences and business operations", along with robots and digital technologies to supplement cleaning and security services.
A cycling path around the development's perimeter will be incorporated, as well as 165 bicycle lots and end-of-trip facilities for users.
The enhancement plans for Raffles Place were developed by the Urban Redevelopment Authority, Land Transport Authority and National Parks Board, which will work closely with CapitaLand to implement them in tandem with the redevelopment of Golden Shoe Car Park.
The integrated development is expected to be completed progressively by the first half of 2021.
Channel News Asia, 9 Feb 2018