PAG Buying Singapore's Cross Street Exchange For $603M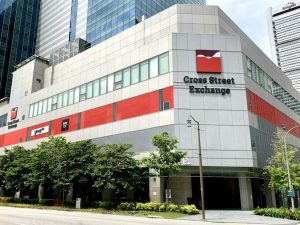 PAG has agreed to buy an office and retail complex in Singapore's central business district from Singapore-listed Frasers Logistics & Commercial Trust for S$810.8 million ($603 million).
The Hong Kong private equity player is buying the Cross Street Exchange near the Raffles Place financial district, according to sources familiar with the deal who spoke with Mingtiandi, with the goal of upgrading the ageing 392,848 square foot (36,497 square metre) complex.
"The divestment of Cross Street Exchange is transacted at an attractive premium over its book value, re-weighting our portfolio towards logistics and industrial properties," said Robert Wallace, chief executive of FLCT's manager in a statement to the exchange.
The sale, which is being transacted at a 28.3 percent premium to Cross Street Exchange's S$632 million book value as of 30 September, and at a 25 percent markup from its pre-pandemic valuation, comes as assets in Singapore's core area continue to be prime targets for local investors and international funds.
Sources at PAG had not responded to inquiries from Mingtiandi by the time of publication, with JLL having acted as sole advisor to the seller in the transaction.
Core Singapore
"The Singapore office market remains a major draw for institutional investors and we expect the sector to attract significant amounts of global capital in 2022 and beyond. Competition for Grade A assets will further tighten this year and as a result, we're confident that asset prices will surge in prime locations," says Stuart Crow, CEO of Asia Pacific capital markets for JLL.
With 74 years remaining on its 99-year leasehold, Cross Street Exchange comprises 305,739 square feet of net lettable office space in its 15-storey office tower and another 87,109 square feet of retail space spread across a three-storey retail podium and two sets of heritage shophouses.
At the S$810.8 million price tag the property was sold for S$2,064 per square foot of net leasable area.
PAG's investment comes after Singapore real estate attracted more than $5.3 billion in foreign investment in 2021, ranking the island nation above cities such as New York and Tokyo, according to a report from Real Capital Analytics.
Offices Endure
While Singapore has sent most companies in the city back into work-from-home limbo, PAG's investment can be seen as a bet on an office market where rents in the central business district rose 4.2 percent last year as they recovered from an estimated six percent contraction at the start of 2021.
"Core Singapore assets remain the preferred investors' real estate strategies given that the upside fundamentals of the broader market have remained solid throughout two years of global uncertainty," said Ting Lim, executive director and head of capital markets for Singapore at JLL. "This transaction proves that the allure of CBD office space remains high and that investors also see longer-potential in retail opportunities offered in mixed use developments."
Known as China Square Central before FLCT renamed the complex in 2020 following a S$38 million 2019 refurbishment a year earlier, Cross Street Exchange lies at the fringe of Singapore's central business district and within 5 minutes' drive of Raffles Place and Marina Bay.
The complex, which is accessible via the Telok Ayer and Chinatown MRT stations had a net property income of S$20.1 million in 2021, with the office portion 85 percent occupied by tenants including advertising giant Group M and Frasers-backed co-working provider Justco.
The retail element of the complex is dominated by food and beverage providers including Japanese restaurant Kei Kaisendon and Hungry Hippo, while also making space for a flea market and tutoring offices.
While PAG has yet to make a public statement on the deal, the acquisition comes two years after the Hong Kong fund manager's real estate arm set up its second pan-Asian core-plus and value-add real estate fund called PAG Real Estate Partners II, which closed on $2.25 billion in 2019.
Frasers REIT Repositions
After the deal is completed, which is expected to be on 31 March, FLCT will see the occupancy rate in its S$7-billion portfolio increase to 97.1 percent from 96.2 percent previously, while its weighted average lease expiry profile will improve to 5.0 years from 4.8 years.
The REIT's manager noted that logistics and industrial properties will now make up a larger portion of its portfolio at 66.9 percent versus 61 percent previously.
The trust, which was created when the commercial and industrial REITS of Frasers Property merged in 2020, will be using the sale proceeds to fund future acquisitions, finance capital expenditure, repay existing debt and make distributions to FLCT unitholders as well as potentially for other general corporate requirements.
Source: Mingtiandi, 25 Jan 2022
Looking for a new office space? We might have some good recommendations for you! Get in touch with us today.