CBD Grade A office rentals likely to be flat this year
JLL Singapore's head of research and consultancy, Tay Huey Ying said: "Clouded business prospects and subdued growth in Singapore's economy will provide little impetus for rent growth for the most part of 2020."
Colliers International head of research for Singapore Tricia Song's advice to office landlords is: "Stay nimble and relevant; be realistic with asking rents."
She added: "While there is tight vacancy and limited CBD Grade A office completion in 2020 and 2021, these will probably be offset by declining net new demand amid weaker economic growth and tenants' resistance to further rental rise from the high base in 2019."
Industry observers note that office demand for the past couple of years has been driven primarily by flexible workspace (co-working facilities and serviced office) operators, and technology companies.
For this year, however, they are less bullish about demand from flexible-space operators, given that they have already built up significant inventories on the island over the past few years, and the sector could be heading for a period of consolidation.
JLL Singapore's head of leasing, Chris Archibold, said: "Tech firms are expected to be the obvious driver of office demand."
Moray Armstrong, managing director in Singapore for CBRE, said: "It is less clear what demand drivers may emerge in 2020. Generally, we foresee a mixed performance in the office sector.
"On the plus side, a number of upcoming prime new developments have sizeable prospects engaged in pre-lease discussions.
"That said, there is less evidence of deals advancing to execution, while some large secondary space opportunities will increase the availability of Grade A office stock."
(Secondary space is space left behind in older buildings by tenants moving to newer office developments.)
Savills Singapore executive director Alan Cheong notes that since 2017, the blended demand for CBD Grade A offices has been veering towards firms in the new economy. For 2019, the total net demand was estimated at 800,000 sq ft – comprising 133,000 sq ft from old-economy users and about 667,000 sq ft from new-economy users.
"CBD Grade A office space demand is thus becoming extremely dependent on new-economy firms.
"Given the recent problems confronting major new-economy companies, 2020 maybe a year of turbulence as both new-economy firms and their investors consider how to deal with the need to rein in excessive cash burn. If the office demand side faces headwinds from slower global economic growth compounded by lower funding for the new economy, the risk of rents softening increases."
"All in all, economic issues in 2020 may force rental growth to take a breather before mounting another push forward in 2021," he added.
Mr Cheong is predicting -2 to 0 per cent change in Savills' CBD Grade A office rental basket this year (after rising an estimated 4 per cent in 2019). He forecasts -1 per cent to +2 per cent change in 2021.
JLL's preliminary estimates show that the average monthly gross rental value of Grade A office space in the CBD ended 2019 at S$10.81 per square foot, reflecting a full-year increase of 5.4 per cent – a sharp slowdown from the 11.8 per cent gain in 2018. All in, rentals have recovered 28.5 per cent from the recent bottom of S$8.41 psf in Q1 2017.
Ms Tay said: "Business sentiment turned cautious from Q2 2019 on the back of heightened market uncertainties and below-par economic performances that led to a string of downgrades in 2019 Singapore GDP growth projections by economists."
The soft business sentiment is likely to extend into this year, thereby keeping rent growth muted, she added.
"Nonetheless, the expected modest pickup in economic activity in 2020 could give business sentiment some lift and underpin some rent uptick towards the end of 2020. Barring adverse external shocks, there is potential for Grade A CBD rents to strengthen by up to 2 per cent for full-year 2020."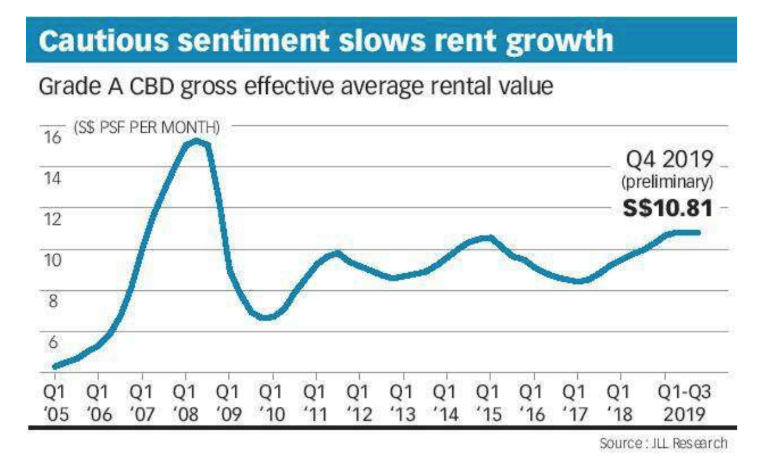 Desmond Sim, head of research for South-east Asia at CBRE, said that against a backdrop of limited availability of quality Grade A office stock in 2020, the monthly average rental value for CBRE's Grade A (Core CBD) office basket is expected to remain stable in 2020, after having appreciated by about 6.9 per cent last year, again slower than the 14.9 per cent jump in 2018.
Colliers' Ms Song too expects the average rental value in the firm's CBD Grade A office basket to remain flat in 2020, following increases of 7 per cent in 2019 and 15 per cent in 2018.
Based on the Urban Redevelopment Authority's data, the island-wide net office demand, measured by the change in occupied space, in the first nine months of 2019 amounted to about 1.34 million sq ft. The figure for the whole of 2018 was 1.85 million sq ft. URA's island-wide office vacancy eased to 10.6 per cent at end-Q3 2019 from 12.1 per cent at end-2018 and the recent high of 13.3 per cent at end-Q3 2017.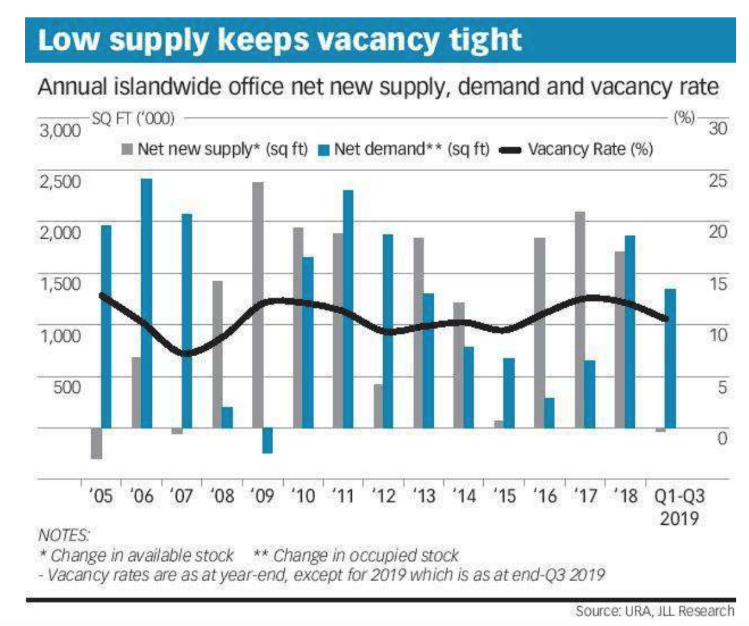 Mr Archibold of JLL highlighted that the biggest challenge in the office leasing market last year was the relatively high rents, which made it more difficult to justify office upgrades. "It became tougher to move to better-quality buildings, even with savings created by more efficient floor plates. Furthermore, the more cautious business sentiment has made it more challenging for corporates to secure capex approval for relocation."
Mr Archibold also noted that flexible space demand tailed off in Q4 2019 "due in part to WeWork's unsuccessful IPO and the negative connotations associated with this and in part to the fact that many flexible space operators have already acquired significant portfolios in Singapore".
"The market now has a significant supply of flex space and while most providers' portfolios have strong occupancies, the market is seeing a period of consolidation and focus around occupancy/profitability."
That said, Ms Song of Colliers envisages that landlords are likely to continue incorporating flexible workspace options in their portfolio to cater to demand from a range of sources – from start-ups to established overseas companies setting up an office in Singapore.
Mr Armstrong of CBRE points to leasing demand this year from the tech sector, private equity and family offices, and notably, professional services, an area in which many international firms are increasingly viewing Singapore as a focus for future growth.
Ms Song predicts that given relatively high rents and tight vacancy in the CBD, some tenants may consider "value options" such as moving to Grade B space (within the CBD) or relocating to the city fringe.
The Business Times, 3 Jan 2020