4 shophouses opposite Singapore Khalsa Association for sale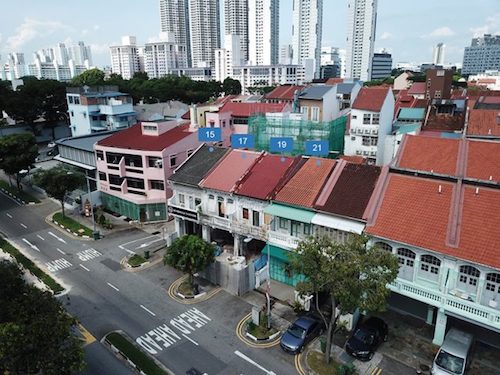 A ROW of four adjoining freehold conservation shophouses at Nos 15, 17, 19 and 21 Tessensohn Road have been put up for sale together, with a reserve price of S$25 million.
This works out to S$1,399 per square foot on the allowable maximum gross floor area (GFA) of 17,873 sq ft. This figure does not include any development charge that may be payable to the state.
The properties comprise four individual land titles with a total site area of about 5,958 sq ft. Under the Urban Redevelopment Authority's Master Plan 2014, the site is zoned residential with commercial at first storey, with a gross plot ratio of 3.0.
The GFA can be maximised with a possibility for a rear extension up to six storeys, under the secondary settlement of the Jalan Besar Conservation Area.
The shophouses are about 400 metres from Farrer Park MRT Station. They are next to a temple and opposite the Singapore Khalsa Association.
"The property can be partially developed into a mixed-use retail/residential project in a charming heritage precinct dotted with conservation shophouses," said Cushman & Wakefield, which is marketing the property through a tender exercise that will close on Aug 28.
Nos 15 and 21 are the original two-storey shophouses, while Nos 17 and 19 have a two-storey front and three-storey rear. Each shophouse has a private car park lot.
The four shophouses are held by three separate owners. One party owns Nos 17 and 19, another owner holds No 15 while the third owner holds No 21.
"The successful bidder can efficiently construct a corner six-storey rear extension over the four land plots, subject to relevant authorities' approval," said Cushman & Wakefield. The firm's director of capital markets Christina Sim said that the property represents a rare opportunity to acquire four adjoining shophouses in the bustling Farrer Park/Serangoon Road locality, which is close to the city centre.
Additional buyer's stamp duty (ABSD) is payable for the residential component of the property. "Despite the recent cooling measures in the residential property market, freehold conservation shophouses in city-fringe locations have withstood the test of time as favoured long-term investments.
"The new owner can explore adding studio-style apartment units in the rear extension for strata sales or unique co-living concept for rental income. In addition, the ground floor spaces will be suitable for hip and unique food & beverage concepts to cater to the surrounding residential catchment."
The Business Times, 19 Jul 2018